Our mission – to experience the 36 different spa treatments at the Victoria House Spa in one day; is it all possible? Greedy, maybe!? Jeje!! Then I thought about it – kind of impossible when a full body scrub and relaxing facial took us most of the morning.
Wishful thinking on my part, but a day at the spa with two treatments was more than enough? When Victoria House invited us for day of pampering at their new spa I knew we were in for some much needed relaxation. YES we had the pleasure of indulging in a couple treatments, PLUS enjoying the amenities of 2-bedroom Infinity Suite, lounging by the infinity pool and indulging at their Palmilla Restaurant.
Victoria House has always been one of our island favorites. It's a gorgeous property styled in a Caribbean plantation/colonial theme. The resort is set in a tropical garden with coconut palms, Flamboyant trees and Bougainvillea creating a serene and therapeutic atmosphere. The addition of a spa makes it even more special and appealing to those seeking bliss in paradise.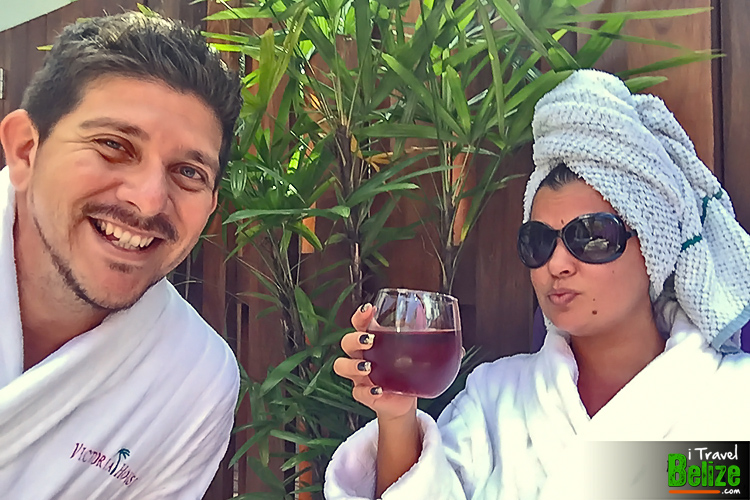 Scrub Your Worries Away
Traveling is a lot of work; believe it or not. Indulging in the Coco Body Polish was ideal to exfoliate, cleanse, nourish and refine our skin. This full body exfoliation treatment includes coconut oil and sea salt or local natural sugars, local honey, essential oils, a warm outdoor shower rinse, and topped off with a glorious cocoa body butter application (not a massage) to seal in the hydrating benefits.
Put Your Best Face Forward
After that full body treatment is was time to take care of our faces. Nothing could feel better than a Deep Cleansing Facial to remove impurities and restore balance. It's a 7-Herb Mask to rejuvenate her skin and remove the stresses of everyday life. Just a few perfect hours to help remove weeks or even months of mental and bodily stress.
The Spa at Victoria House is just what their guests have been looking for and with today's more health-conscious traveler it fills a need. Part of Victoria House's appeal is the beachfront location. It is a serene and spacious environment and they have managed to take that into the new spa. It's the only one of its kind on the island and even the country.
Taking advantage of the island resources, the spa is fortunate to source local coconut oil, sugar and honey scrubs, fresh hibiscus flowers, essential oils and hot stones to use in their treatments for a truly Belizean experience.
So you might not be able to experience all 36 spa treatments in one day; kinda impossible. But what's the point in that? Island time requires you to take it slow and enjoy every minute of your stay in paradise. With time and a few more visits I will shoot for all 36 spa treatments – Oh wait, maybe not the Pre-Natal Massage. Darn it – that brings it down to 35. 😀 Looking forward to all of them.
Services of the Spa are available to both guests at Victoria House and the public, except the fitness/gym equipment that is reserved for the resort guests. Major kudos!!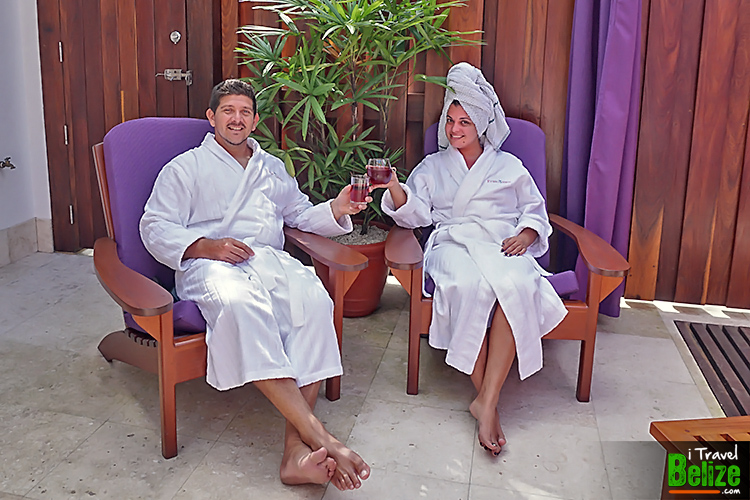 * At 3,500 sq. ft., Victoria House Spa features four treatment salons, including a VIP couple's salon and two with French doors which open a to private, enclosed patio allowing for outdoor massages, along with outdoor showers and lounge chairs.
* The new facility also includes a 500 sq. ft. fully equipped fitness center with separate locker rooms for men and women, a reception and spa area with a full range of spa products, a relaxation room with recliner seating, and a large enclosed patio that can facilitate small yoga groups.
* The spa features over 36 different treatments including those specifically designed for the expectant mother, bride and bridal parties, and couples. A full menu of spa treatments and rates, and spa packages are available for guests.