There is a new Japanese Chef in town and he has everyone talking about Sushi! I always enjoy writing about People on our Map that join us from far away places. This reminds me of how special and culturally diverse Belize is. We are lucky to be able to learn skills from around the globe right here at home.
Our fishermen have been learning new techniques from Toshiya Tsujimoto since he arrived in San Pedro. He has shared with quite a few how to prepare fish in order to serve it sushi style. His friendly disposition has already earned him friends all over the country, but it's his passion for food that caught my attention.
Dorian and I are blessed to be invited to tastings often, but a few weeks ago we got to participate in something a little different. We were not just tasting food, we were presented with little works of art with enormous flavor by a chef so passionate about his offerings that you could taste it in his food. Toshiya started off our tasting experience with bait fish! Not commonly found in restaurants, Balihoo is something you'd more likely find on the end of a fishing line waiting to catch a much bigger fish. He had skilfully transformed it into a crispy starter and decadent dish to follow.  We were met with so many delicate flavors that night.  Most grown or caught right here in Belize.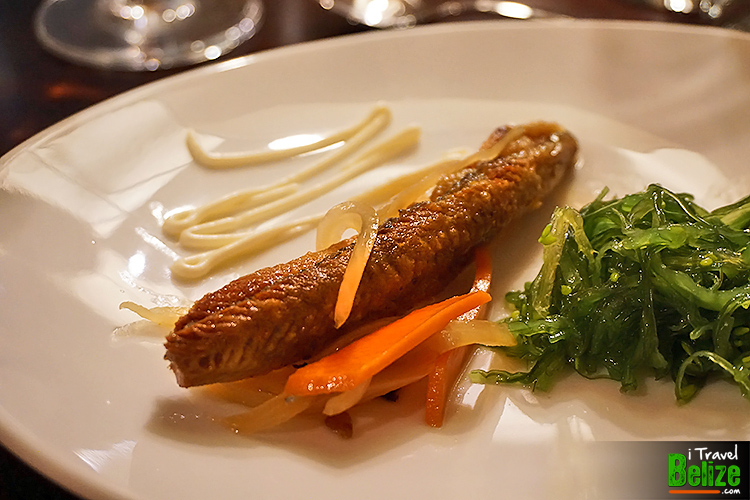 Finding fresh local ingredients and converting them into soul healing food is Toshia's mission and we are fortunate that he fell in love with Belize.  Our night continued with a variety of sushi and sashimi all made highlighting local ingredients.  The star in my opinion was Belize's very own Spiny Lobster, sashimi style! Everything we were served said "Belize meets Japan"!
I for one am looking forward to Toshiya's newest venture, JYOTO Japanese Restaurant and Sushi Bar at Mahogany Bay Village, scheduled to open in January 2017.
I leave you with a short clip as a teaser of what is to come!  Congratulations to our new friend Toshiya Tsujimoto on finding his new home in Belize and bringing us a taste of Japanese culture and healing.
Belize's newest Sushi Chef