I don't know how we ended up inside the Simone Biles motorcade in Belize City yesterday, but somehow during all the chaos we did. When asking to get ahead of it for media shots, a traffic officer directed us behind the police truck in the lead. LOL!! So there we were in the center of it all, in our little orange iTravel-mobile. All we could think of is wave back at the crowd.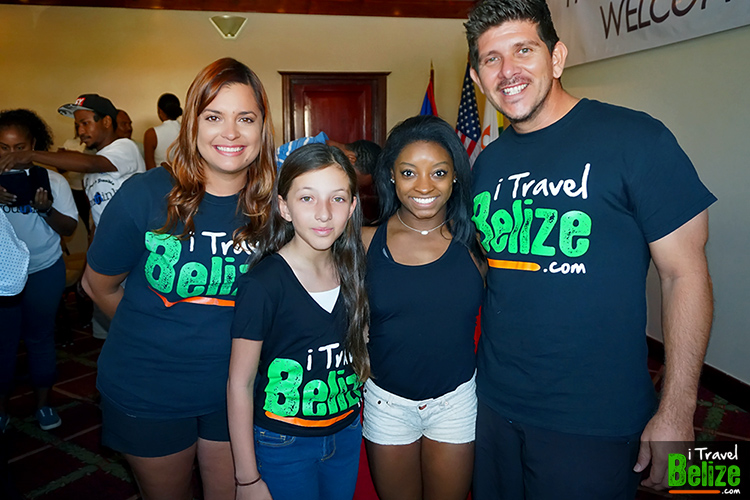 We were so excited to have met Simone. She is sweet, friendly and always carrying a big smile. Biles has been an inspiration to the Belize youth. She will be addressing students across the country during a motivational speech session at the Bliss Institute of Performing Arts on Thursday, December 29.
Simone and her family were welcomed by hundreds in the city. A large crowd waited for her arrival at Battlefield Park in downtown Belize City where the motorcade ended. She was received with loud applause and was presented with gifts and the key to the city by Belize City Mayor Darrell Bradley. Later that evening she was hosted by Prime Minister Dean Barrow and family at a private dinner.
Biles arrived in Belize City on Wednesday, December 22, along with her family to spend her Christmas vacations in the country. I guess they decided to run away from the cold weather and have a tropical Christmas.
Simone was invited by the Belize Tourism Board via Twitter to come vacation in Belize after her exceptional performance at the Rio Olympics. She responded to the Tweet with this message:
"My second home. You Betta Belize we're coming."
During her Olympic run she expressed pride of her Belizean roots, stating that she has both American and Belizean nationality. She has been visiting Belize as her favorite vacation getaway and ideal fishing spot. The only time she goes fishing is when in Belize. Simone also stated that her favorite Belizean dish is Rice & Beans; which her mother prepares for her at home.
Other than these two public appearances, Simone says that she is happy to take time off in Belize to spend with her family and relax after the whirlwind experience during and after her Olympic triumph.
Motorcade through Belize City