What should have been a visit to the Basil Jones Summer Camp to catch up on the activities of the camp kids, turned out to be a full 2-day adventure that included a golf cart ride in pitch black conditions, being eaten alive by sand flies, camping on the beach and drying out wet mattresses, pillows and clothes after our tent leaked during a 15-minute deluge.
On the up side, we roasted marshmallows under a gorgeous full moon, were entertained by the camp kids who were on their last evening of summer camp, slept under the stars, experienced a glorious sunrise and spent an entire day on a canoe by the reef, snorkeling and hunting for manatees (not to kill them, but to swim with them of course).
Seeing that the camp kids were having so much fun during they day, we decided to return for the evening activities to camp out on the beach. A quick shower – grocery shop run for supplies – load up the tent – and we were off…..
We found out that you can drive a golf cart the 15-mile trek to Basil Jones Area so we went for it; heck spontaneous adventures make for more fun times, right? IT TAKES ABOUT 1 HOUR AND 3O MINUTES TO GET THERE!!! Mind you that we left San Pedro Town at 6p.m. What were we thinking? LOL!
The first 30 minutes was easy driving with the roads paved up to three miles from the bridge and an additional five miles that have been significantly improved. Then the adventure started as we took a cut-off that lead to a beach trail. Then one hour of driving a golf cart wide path winding in and out of the beach, through thick coconut/bush vegetation and trails filled with coconuts, palm fronds and uneven terrain. It is a scenic route during the day, but as we rushed to beat sundown I just floored the gas pedal and prayed we did not run into any problems on the way back to camp. It got pitch black on the last 30 minutes of the journey.  What were we thinking?
Hurray! We made it to camp safe and sound and it was not until we set up tent that the full moon came out to light up the night; perfect conditions to enjoy a cozy campfire, scary stories and interacting with the camp kids.
AND…we got wet. The tropics are unpredictable when it comes to summer showers and our tent, as beautiful as it looks, was no match for the heavy shower that fell upon camp. I need a refund from Swiss Army, why wouldn't the tent be waterproof?
After the rain, the winds calmed down and upon us came the wrath of sand flies…millions upon millions of them that would not let us sleep. We evacuated the tent and headed to the beach for refuge, to get some relief from a slight breeze and smoke from the campfire. No amount of bug spray or lotion was any match for those pesky sand flies. We were told that only Deep Woods Off would do the trick. Will  get back to you guys on that.
We did get to enjoy a glorious sunrise and sip coffee on the beach as we watched the pelicans, kayaks and early fishermen pass by. Serenity at its best. What lied ahead was a great day. We had a delicious breakfast prepared by the camp cook/caretaker and after saying our farewells to the camp kids we packed our gear and prepared for the water.

Tranquility Bay Resort is next door to Basil Jones Camp and with the reef extremely close by we took a canoe, rented snorkel gear and went for an underwater adventure. There are coral patches within a few feet from the dock at Tranquility Bay and with a few swing of the oars we were at the reef. We went in search of a trio of manatees that visit the reef channel every day, but unfortunately there was no manatee encounter; needless to say there were plenty of fish (found Dory) and very colorful coral. Swimming with the manatee is on our bucket list, and for now it will stay there.
After a very active and enjoyable day we fueled up with food at Tranquility Bay's Tackle Box restaurant and headed back home. This time it was a much enjoyable ride along the beach trail as we could actually take in the scenery.
Check out Amber's Snapchat Story (@amberbelize) as we headed to Summer Camp: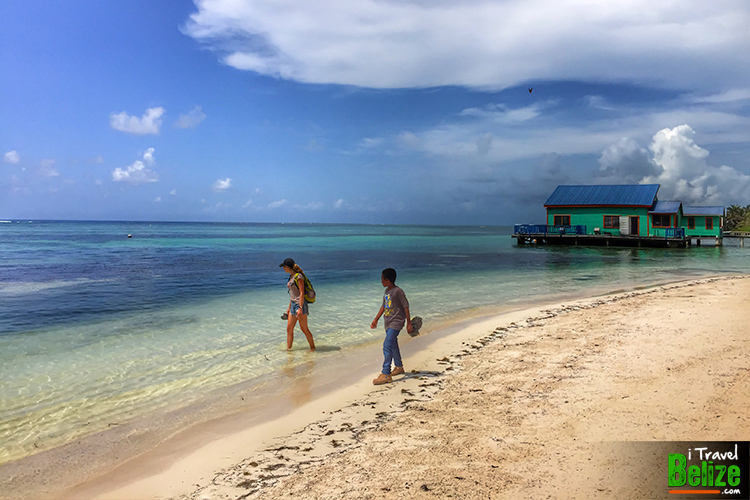 Time for Some Water Adventures