They eat anything that fits in their mouths. They reproduce rapidly and adapt effortlessly with its attractive looks. In the words of Andrew Zimmern "If it looks good, EAT IT". Lionfish have become the most numerous marine invasive species in the world. These predators, which hail from the other side of the world and can grow up to 20 inches long, are wreaking havoc on delicate reefs and probably further depleting precious snapper and grouper stocks.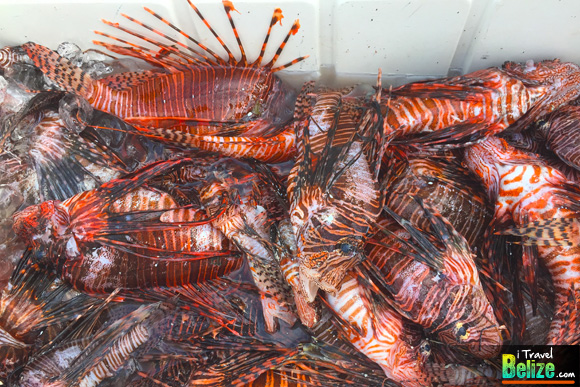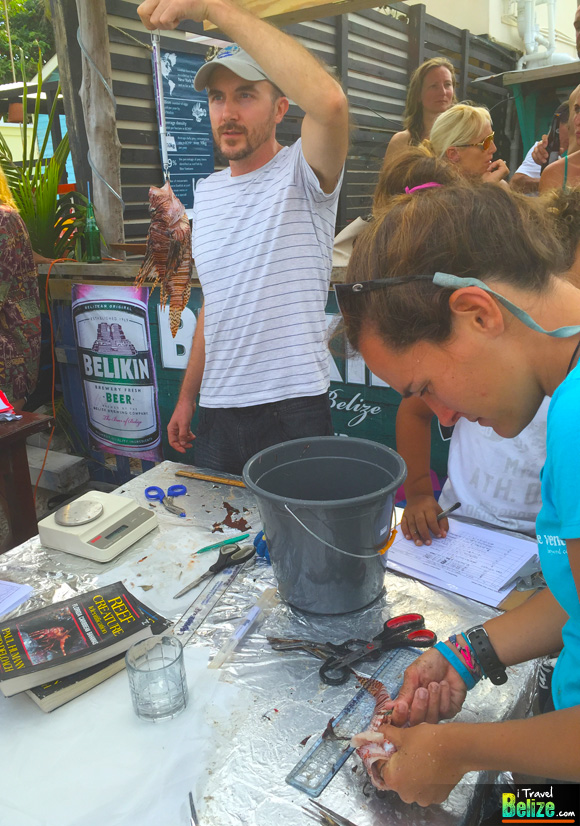 Experts state that there is no stopping them now, but hoping to at least slow them down, marine biologists and Oceana Belize have been intensifying efforts recently to spearfish them out of certain areas that harbor fragile reefs and figure out how they became a threat so quickly and so successfully in our oceans. So how are we combatting them? —The Lionfish Derbies are the most successful and fun way. Caye Caulker's first Lionfish Derb was organized and hosted by Oceana Belize Wavemaker volunteer Lynne Couch-Harris and the Barrier Reef Sports Bar, with the support and participation of Frontier, Oceana Belize, Blue Ventures volunteers and the Belize Game Fish Association to motivate and award participants who are helping in prohibiting the breeding of the Lionfish.
With the huge success of the first Derby, organizers are looking forward in organizing more throughout the year, hoping to continue throughout the years. Fishermen and divers who gather from all over Belize head out to sea in the early morning hours to come back around 3p.m. for the official weigh-in. While some admire the count of fish at the weighin, others enjoy demonstrations on handling and cleaning the venomous fish, filleting as well information on research on the lionfish by Oceana, Forntier and Blue Fentures. The derby awards participants for the biggest and smallest catch, youngest spearfishing group and most Lionfish caught. There is also the gourmet approach where locals and tourists get to enjoy the fresh caught Lionfish in some of the most delicious Belizean inspired dishes. There are plenty of chefs participating in cooking demonstrations and tastings for all those who wish to sample the exotic fish.
The yearly Lionfish Derby venues will be announced by Oceana Belize and Barrier Reef Sports Bar; if you wish to support, learn and participate in the event free to contact Oceana Belize.
Click Here for list of winners on Ambergris Today Online.