It's been on everyones mind lately and it weighs more than most Sanpedranos can bare. A fire in San Pedro, one night, 11 buildings, 27 families, 88 people who lost it all.
Immediately after our first news report the outpour of concerned calls and messages overwhelmed our phones, websites and social media and we all knew there was work to be done by all of us. I posted a flyer on Facebook the evening of the fire thinking if a handful of volunteers came to help we would do everything in our power to assist in the cleanup of the site.
You amazed me San Pedro! Forty-five of us met at Estel's on Tuesday morning to assist in the cleanup and we were only one of the many groups who volunteered.
Walking through the rubble left by the fire that destroyed an entire block in the heart of our town, I could not even begin to imagine the feeling of total loss of the victims.
I was taken back to when there was no cobble stone in sight and Don Genaro† like many others, had to water the street in front of his shop to keep the dust out. Back then homes of beautiful people lined the streets and even though most of those homes had long been lifted to make room for commercial spaces beneath them, last week our people still sat on their porches or peeked out the windows from above to wave or smile at friends as they walked by.
Not today, today there were empty spaces filled with broken hearts and debris. As we lifted and moved the fallen fragments of our town and found pieces of people's lives damaged and broken, I had a thought "88 people lost EVERYTHING, but an entire town, an entire country has come together to fix this!"
This is San Pedro, our tiny fishing village named after Saint Peter, Patron saint of Fishermen, net makers and ship builders, where the sense of community is always present despite our differences.
Today, on Dia de San Pedro, I want to take the opportunity to celebrate our people by mentioning their amazing acts of kindness during this devastating time.
First, to the hundreds who helped put out the fire whether holding the hoses or filling the streets in the bucket brigade that lined the town from the lagoon to the sea. Your courage will be remembered.
When the fire was out and the sun came up everyone, including those of us who hadn't slept, sprung back into action.
The San Pedro Lions Club along with San Pedro Food Bank opened their gates to the hundreds of people with donations from all over Belize. If you were there helping sort clothes, move boxes or you donated. Yay you! <3 Thank you!
To our Town Council and NEMO (National Emergency Management Organization) for coordinating the massive cleanup and accepting donations of warm foods for the hundreds of volunteers and community workers who came together to restore power and clean the affected area.
The restaurants who donated the food which we enjoyed immensely after a long morning of hard labour. Thanks, La Popular Bakery, in Orange Walk for sending pastries all the way to San Pedro.
All the businesses for so generously donating funds, sending food, providing free shipping or volunteering your work force. There were so many groups of uniformed workers at the site. It truly shows you care.
The forty plus people that responded to our call for help to meet at Estel's. My message said bring gloves incase we have more helping hands than we expect…. way way more hands showed up! The response was more than we had hoped for and I thank you.
Coconut Leo, for keeping our spirits up by providing live beachside entertainment and of course coconuts for our volunteers on our lunch break. Respect!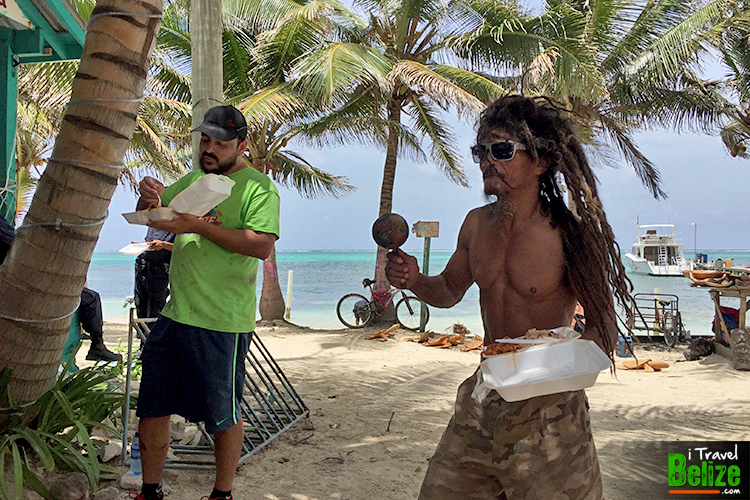 To anyone abroad who saw our pleads for assistance and donated or just shared a post to spread awareness, thank you.
I am the product of an expat and a young Sanpedrana's love too many years ago.  I am grateful for the deep rooted community of people I call family and friends born and raised here, and I am equally thankful for the love and respect brought from all over our globe that was so evident in our joint efforts to build back hope.  To every single person who has made our little town what it is today.
Feliz Dia De San Pedro mi gente!  I am humbled to call this place my home.
If you are just hearing about this click here for an article we posted about how you can help.