A couple weeks ago, I learned that Kakaruchi is now cooking up a storm at his new diner. Who, you might ask? – You know, Enrique Luna! Everyone on the island of Ambergris Caye knows him as Kakaruchi, a nickname he got stuck with when he moved to San Pedro! He has jumped on the entrepreneurship bandwagon and opened his new eatery, aptly named Kakaruchi's Grill.
What a kickname right; but Enrique has been living in San Pedro, Belize for 34 years now and all the locals and many visitors know him working in the tourism service industry. He is an accomplished bartender/mixologist, creating award-winning cocktails at the country's signature Taste of Belize competitions and at San Pedro, Ambergris Caye's Lobster Fest!! Hands down, he is one of the best! Who would have thought that Kakaruchi knew how to cook?
The 'island buzz' is loud and with only a couple of weeks since opening, people have great things to say about Enrique's cooking and the cool spot that is Kakaruchi's Grill. Curious, we dropped by to experience ourselves.
It's a 'drive-in' – literally! The town's public parking lot is at the doorsteps, making it so convenient to stop for some delicious food. Enrique is not making your regular Rice & Beans with Stewed Chicken; he is stepping out of the box and offering different specials on a daily basis.
How does Carne Asada with mashed potatoes or Curry Beef with cilantro rice sound to you? (Okay, minus the cilantro rice for me; everyone knows cilantro and I don't get along. It's in the genes, can't help it!) I had the Curry Beef with white rice, because Enrique gives you the option. YES!
Two BIG thumbs up for his Carne Asada. The meat is very well marinated and tender; very few restaurants can accomplish that on the island. His tops our list and with a healthy portion of mashed potatoes to go along with it, you can't beat that for $10. WOW! Still thinking about that steak!!
Kakaruchi's Grill also serves up sushi!! Yup! Saturday evenings are special with a sushi. Enrique's son, Ricky Jr., is a fisherman (besides a tour guide and Crossfit Trainer) and brings his father the freshest seafood; so he is in charge of preparing the tuna sushi. It's good! You can expect fresh seafood dishes and tasty ceviche.
Not giving up on his bartending skills altogether, Enrique is also serving up some of his best. He makes a MEAN Sangria and you can definitely accompany your meal with a glass or two. Have it to go, its also an option!
Kakaruchi's Grill is convenient, inexpensive, but most importantly – Delicious. Enrique has a cozy corner right next to El Patio Tortilla Factory on Angel Coral Street (Back Street). It's a great diner owned and operated by great people so make our island community shine with character. Go check it out; we are sure to go back again and again.
Opening Hours: 11a.m. to 9p.m.
Menu Specials include chicken, beef, pork, shrimp, fish and lobster options. You will also find burgers, wings and quesadillas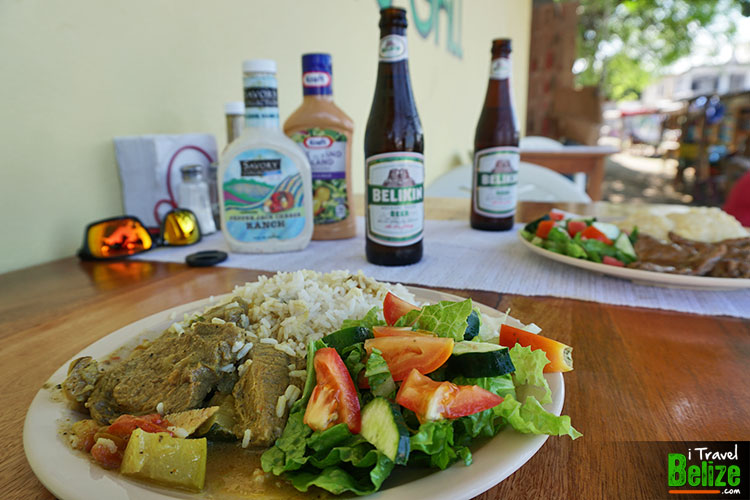 What's Behind the Knickname Kakaruchi?
I know you are asking yourself: 'How in the world someone gets a nickname like Kakaruchi'? After all these years of knowing Enrique, I never knew the story behind it, until now. Enrique explained that when he first moved to the island from Honduras, he used the word 'Kakaruchi' for pretty much everything – as an expression for surprise, enjoyment or concern. He used it too often that it stuck as a nickname. Enrique says that people even address his wife as Mrs. Kakaruchi!!