Cocina Sabor has only been in operation for two years now, but the family owned restaurant has been serving up some flavorful food in Orange Walk Town that has people buzzing and going back for more. It is one of the best places to grab a quick bite or sit down to enjoy a full meal filled with Belizean flavors.
Cocina Sabor is located in the up and coming town of Orange Walk, the fourth largest town in Belize.  It's a town that has been growing in the tourism industry and is a midway point for doing business between Belize City and the Mexican border town of Corozal. Tourists seek inland adventures while local businessmen seek a place hold meetings, a reason while more hotels and restaurants are popping up in the town. Rising up to the demands of great food in the area is Cocina Sabor.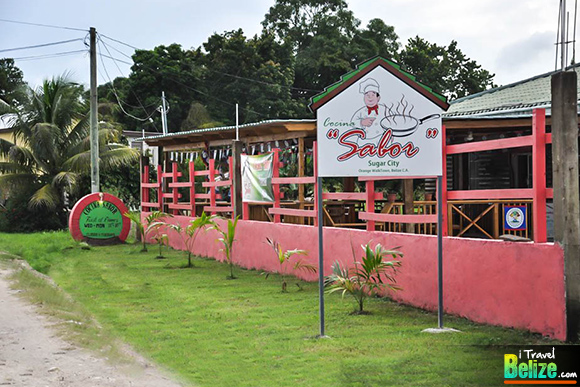 The restaurant is one of the many that welcomes everybody to Orange Walk "Sugah City", but its unique menu providing something more unique to the town is what sets Cocina Sabor apart from the rest. It is a family operated business that proudly opened its doors to the community in 2013. The Gutierrez family is very experienced in the hospitality industry as Oscar and Ampi both worked for many years at two of the top restaurants on the island of Ambergris Caye, Belize.
Inspired by Victoria House – La Palmilla and Elvi's Kitchen, Cocina Sabor is "Bringing you a twist of flavors!" Their menu has a Belizean cuisine with a hint of international flavors; featuring local meats, chicken, seafood, and an array of appetizers. Their bar offers a wide selection of beverages ranging from cold beers, fresh fruit juices, to cocktails and wine.
Many are raving about Cocina Sabor's remarkable service, great food, extraordinary drinks, amazing desserts and terrific dining experience inside a cabin-style atmosphere with varnished tables and chairs, air conditioning and free wifi.
Cocina Sabor is located on the south end of Orange Walk Town, with opening hours of 11a.m. to 10p.m. from Wednesday to Monday (closed on Tuesdays). Find out more about the restaurant on Facebook.
Here is what to expect at Cocina Sabor and what we recommend for you to try: