"Location is everything, and we've got it all!" I got a firsthand experience of the "Yes I Can" attitude/service/hospitality at the Radisson Fort George Hotel and Marina in Belize City and I have to say that I was pleasantly surprised at how amazing my stay was in the city for three entire days and two splendid evenings really was. For me, traveling to Belize City is just for the day, passing through or a quick overnight to get business done. But the Radisson gave me a new perspective on how comfortable and pleasurable a trip to the city can be.
I strongly believe that it is the Radisson's "Yes I Can" mentality that makes it stand out amongst all other hotels in the city. It seems that nothing is impossible for the management and staff of the Radisson, because this mindset makes them go above and beyond to provide the best service possible for their guests. From the moment you check into the hotel, to the employee you bump into on the way to your room, to the service you receive at their restaurants and bars, there is not one staff member without a smile on his/her face making sure you are taken care of.
Your satisfaction is pretty much guaranteed at the Fort George Hotel & Marina where old world charm meets modern style. It is located on the shoreline of Belize City's historic Fort George Area and caters to both business and leisure travelers. Although part of my trip was for leisure, I had a full itinerary booked during my stay, even some gym time set apart at the Lamanai Fitness Center that is open 24 hours and a complimentary service to all guests of the hotel.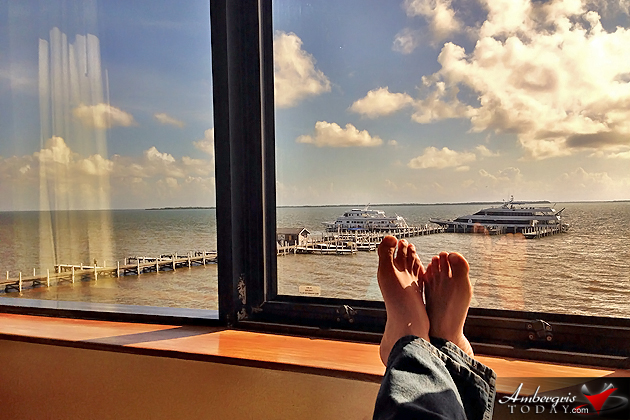 The Radisson's stylishly appointed rooms include Business Class rooms, with sleep number beds, Jr. Suites and Standard rooms. They are very spacious with super comfortable beds for the perfect slumber. The Club Tower and Business Class Suites offer panoramic views of the Belize Coastline while the Colonial Rooms offer a beautiful view of the hotel's garden and the Villa Annex offers a partial view of the Caribbean Sea and that of the city skyline.
If you are just there to relax, enjoy the comforts of your room, take a relaxing dip in either one of two swimming pools, soak in the Jacuzzi or relaxing in their beautiful garden. Health aficionados can wake up early to workout at the well-equipped fitness center and then head down to La Petit Café where pastry lovers enter heaven. The café offers an array of delicious and fresh pastries, breads, natural fruit juices, hot beverages, fresh salads, sandwiches and other light menu items. It is one of Belize's authentic cafes and a very popular spot for both hotel guests and locals.
But if you are looking for more to do while staying at The Radisson, the Hotel's concierge desk can arrange amazing tours around the country and including diving trips. I took advantage of visiting the Maya archaeological site of Xunantunich in the Cayo District. A personal tour guide of the hotel made sure I received an informative and adventure-filled day driving through the amazing countryside, exploring the Maya temples and enjoying a delightful lunch at the nearby village of Succotz.
Back at The Radisson, the resort is full of life poolside as the Stone Grill Restaurant offers daily/nightly entertainment with Happy Hour specials and innovative dishes prepared on a volcanic stone. There is always some activity taking place by this outdoor restaurant adjacent to the pool, deck and garden. A more laidback/lounge atmosphere is provided by the Baymen's Tavern that comes alive after working hours and the businesspeople head on over to enjoy a cocktail or after dinner drink. It's a favorite meeting place that offers live entertainment and even some light meals.
For a more full service dining experience there is the St. George's Restaurant serving daily breakfast buffet, Belizean lunch specials, as well as nightly specials that include Italian, Mexican, Seafood specials and Sunday Brunch. The delicious food of St. George's Restaurant is also featured every week in the local television Channel 5 in their Creative Caribbean Cooking show. I had the privilege to go behind the scenes of the filming of the show and watch the professional chefs in action as it is filmed on location.
So as you can see, there is so much you can do while staying at The Radisson Fort George Hotel and Marina or you can do the complete opposite and do nothing at all. I learned that you can have a grand experience without leaving the hotel or take advantage of their tours and explore more of the city and countryside.
The Radisson is also ideal for receptions, cocktail parties and corporate events; they have six meeting rooms that total over 6,000 square feet of space and feature wall-to-wall carpeting and air conditioning. Plus, they can also arrange elegant outdoor events for up to 400 people in the gardens and poolside area. Planning a wedding in Belize? The Fort George Hotel and Marina offers wedding services to assist you in planning your special day.
Learn more about The Radisson Fort George Hotel and Marina by visiting their website: http://www.fortgeorgebelize.com/