So you have swam with the sharks and stingrays, interacted with the manatees, fed the tarpons and seen the monkeys in the mainland. Then how about seeing a professional wildlife expert getting in the water and wrestling with a wild crocodile? Got your attention huh!?
Well you can't swim with crocodiles as they are wilder animals, but you can surely experience this thrilling tour in San Pedro, Ambergris Caye. It WILL have you interacting with the wild reptiles and at the same time helping protect them and conserving their natural habitats. The American Crocodile Education Sanctuary (ACES) will have you appreciating and (YES) loving these threatened species and not looking at them as scary and dangerous creatures.
ACES' Crocodile Scientific Investigators (CSI) tour is a unique experience that has you traversing through mangrove forests at night on the back side of the island. Yes! The tour takes place at night, as it's when the crocodiles are more active and hunting for food. Vince and Cherie, founders of ACES started the tour, but their most knowledgeable Crocodile Expert Chris Summers is mostly in charge of taking out the tours.
Admiring the pitch black expanse of the night's sky that is dotted with millions of stars, you travel through the mangrove swamp in search of the apex predator. The silence of the night is broken once Chris and his assistants jump with excitement after spotting a crocodile. With their eagle-like vision they spot their eyes glowing in the distance as they flash their light into the mangroves. Before you know it your guide is in the water going after the croc to bring on board the boat!
It's not a normal human reaction to jump waist deep in the water where crocodiles live, but these guys do it. Much like we would jump into a pen filled with adorable puppies, Chris does with crocodiles. It is very exciting watching them catch a wild crocodile; it's like being on an Animal Planet show. They bring crocodile up to four feet in length into the boat, they take measurements, check their health and gender and electronically tag them so the animals can be monitored. Some are even relocated to a better part of the lagoon.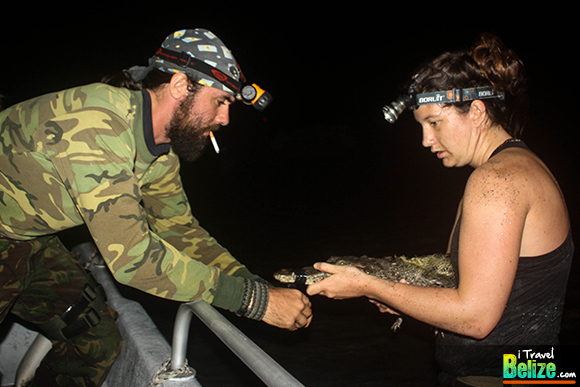 On our trip, we relocated a baby croc to a safer area, away form human interaction; tagged and named two other juvenile crocs and rescued another that was identified as being extremely malnourished. That one was taken into ACES' sanctuary after our tour, located adjacent a shrimp farm just outside Belize City where it would be examined and hopefully brought back to good health. If you are lucky enough, much larger crocodiles can be observed when they are caught in huge traps that are set up during the day.
Chris and his crew are very careful and handle the crocodiles with extreme care and attention. Their mission is to protect them and the tour is super informative and educational; Chris, Vince and Cherie are excellent and answer all your questions about these fascinating wild creatures.
One really cool part of the tour is admiring the glow of bioluminescent algae that light up in the dark water when the moving boat disturbs them or crocodile that is trying to escape capture. Keep an eye out for that.
"It is really beautiful back there," comments Chris Summers.  "The lagoon is a vital part of the eco system that is largely overlooked by the majority of visitors to the island, so we take great pleasure in being able to take people on the tour and show off its beauty.
Ambergris Caye, Belize's premier tourist destination, has the highest number of croc-human conflicts in the country of Belize. Grants and your generosity support ACES' ongoing research to reduce these conflicts. Crocodiles are totally misunderstood wild animals, that in a way we humans have encroached in their natural habitats. As the island becomes more and more developed, the crocodiles lose their habitat, and are forced closer and closer to humans. Crocodiles that get used to people and used to be fed is a bad thing.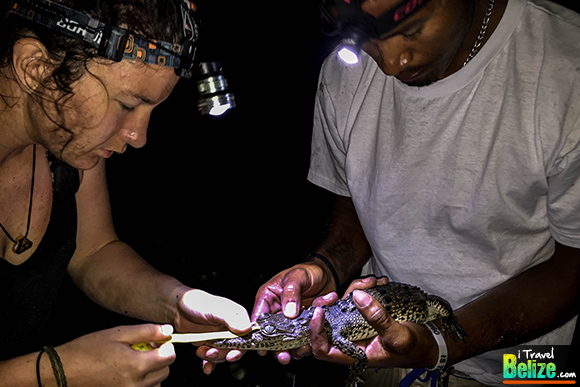 The people at ACES are trying to change all of this by educating people and protecting the crocodiles. They do not look huggable or cuddly, but after the tour you definitely grow affectionate to them once you have handled a baby croc, helped tag one or save one that is injured or suffering from malnourishment.
If you love nature, you will love this unique tour.
About the Tour:
* CSI:Belize Croc Excursions Depart from "The Office Bar & Grill" is located west of the San Pedro airstrip.
* Tour takes place on board the "Swamp Thing" a comfortable 20-foot Carolina skiff.
* Cruise through mangrove habitat into the night and search for crocodiles, birds, and other nocturnal wildlife.
* Watch while expert croc wranglers try to capture saltwater crocodiles for tag and release by Biologists.
* No special attire is needed for this two-hour, lagoon, boat trip.
*All proceeds go to crocodile rescues, research, education and conservation.
By Reservations Only
– Departure Time: 6:30p.m. (Winter) / 7:00 pm (Summer) – Depending on sunset times
– $50 USD per person
– 4 persons minimum & 10 persons maximum
– CALL 626-0200 or Email: 501bze@gmail.com
– Credit Cards Accepted
– Website: americancrocodilesanctuary.org/
*Cancellation Policy: 48 hours prior to departure – No Fee; 4 hours prior – 50%; last minute and no shows will be charged full price. Be sure to check your resort/ tour operator's cancellation policy.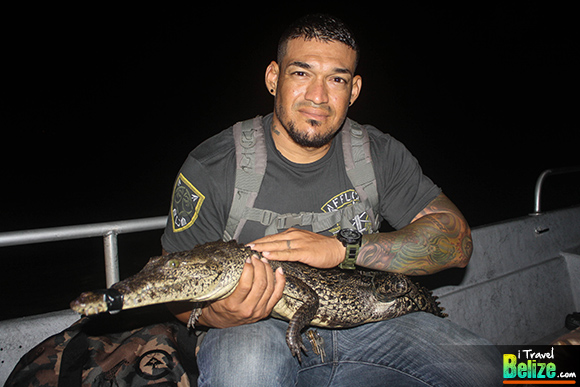 Click on Link to Watch Video: https://youtu.be/BZ8Gj6Yl3t8