It might be the most visited marine park in Belize and the busiest, but that does not deter the thousands of visitors to the country to take a memorable tour of Hol Chan Marine and Shark Ray Alley. The marine park is huge and there is space for everybody to take a dip and explore in the crystal clear waters off the coast of San Pedro, Ambergris Caye, Belize.
Why is a half day snorkeling tour of the Marine Reserve so highly recommended when visiting Belize? Well look as what we got to do in just less than three hours in the water:
1. Got to observe a beautiful Loggerhead Sea Turtle feeding on the sea grass beds
2. Said "Hello" to a mysterious-looking Sting Ray
3. Watched with mouths-wide-open as a frenzy of Nurse Sharks fed before our eyes
4. Fed a fierce Barracuda
5. Marveled at the colors of a gorgeous Parrot Fish as it swam by
6. Explored the open seas through a maze of coral reef formation
7. Tried to count as many species of fish that we could (lost count of course)
8. Waved goodbye to the elusive Spotted Eagle Ray
9. Got a great sun tan &
10. Had an AMAZING TIME!!
We had the opportunity to take this half-day tour of the marine reserve with the gang over at Chuck & Robbie's Scuba Diving and Instructions. The tour operator is one of the most recommended and popular on Ambergris Caye. We just love the staff as they are SUPER friendly and make your experience even more memorable.
Your tour kicks off at nine in the morning at the dive shop where you are greeted by the staff and get to mingle and meet up with others taking the tour. You are then hooked up with your snorkeling gear, all personal items you have to take is your swim suits, sunscreen, a blanket, camera gear (waterproof/underwater preferably); water/refreshments and fruit are provided by Chuck and Robbie's – they go down so well after a vigorous swim through the currents at the channel break of Hol Chan.
Once at the reserve, your guide gives you a short briefing on the 'Do's & Don'ts' of the park – listen and follow them, it's for your own safety. It is simple – "Don't touch the coral" and "Keep close to your guide". The rest is to simply enjoy the surroundings.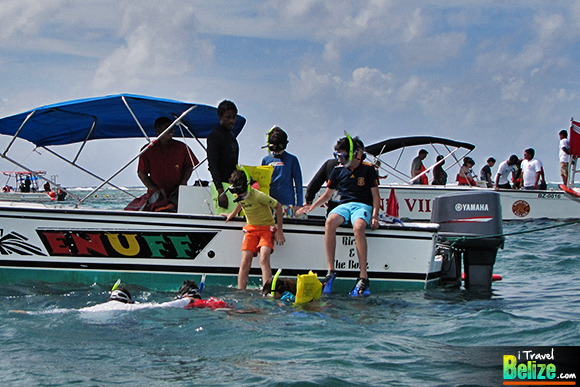 Hol Chan Marine Reserve is Mayan for 'little channel." It is located between Ambergris Caye and Caye Caulker and covers approximately 4,448 acres of coral reefs and focuses on a cut through the reef called "el quebrado" which is little more than 25 yards wide and 30 feet deep.
Shark Ray Alley is located adjacent to the Hol Chan Channel and also a very popular snorkeling and diving location where you will encounter sharks and rays in their natural habitat. Your tour guide will chum the waters of the area, attracting the nurse sharks and sting rays that go on a feeding frenzy – take pictures from above on the boat or be brave and jump in the water to experience firsthand!!