There is a giant that sleeps along the Maya Mountain chain of Belize, but you do not have to worry about it coming after you because it lays in eternal slumber. The Sleeping Giant of Belize is a landmark that can be spotted along the highways of the country, one that provides a great photo opportunity to highlight your adventures in the country.
Once you get to around Mile 25 on the Western Highway, traveling west from Belize City to the Cayo District, there are pine trees, more pines, some small hills and then in the distance appears the Sleeping Giant that guards the foothills of Maya Mountains. It's a limestone mountain that has taken the shape of a person lying down.
You might have passed by it a dozen times without knowing it is there, but if you look closely you can easily distinguish a nose, chin, neck, stomach and even his feet. Your imagination takes charge of how you see the giant sleeping in the horizon, but its head is clear to spot. It is really cool!!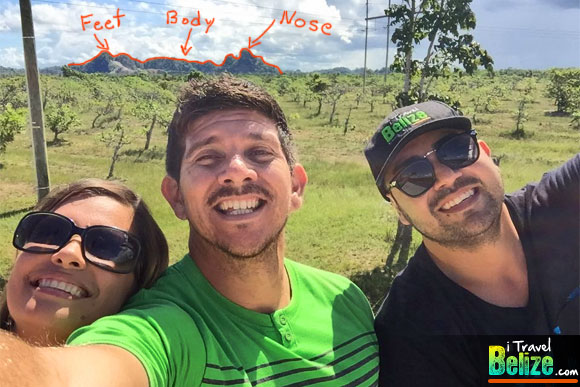 It can be spotted at different locations!!
On a separate ocassion, I was traveling to southern Belize, heading down to the Stann Creek District along the Hummingbird Highway when one of our stops was the Sleeping Giant Lodge. It is a fairly new resort nestled into the foothills of the Sibun National Forest Reserve. The Lodge has a different view of the Sleeping Giant!
My bearings were off, confused at this point. I knew we were far away from the Western Highway, but there it was, the silhouette of the giant 'snoozing' on the mountain range. The outline of the giant is not clearly defined like the view from the Western Highway, but still very visible. We were about 19 miles (28 min. drive) from Belmopan City (within the Cayo District).
The Sleeping Giant of Belize makes up the great scenery along the mountainous areas of the country. It adds an extra touch to the picturesque landscape that make Belize even more unique. Remember to drive slowly when approaching these mile marks on the highways, look up at the mountains and take out your camera.