When:
May 18, 2018 @ 10:00 pm – May 20, 2018 @ 10:00 pm
2018-05-18T22:00:00-06:00
2018-05-20T22:00:00-06:00
Where:
Punta Gorda, Toledo

Contact:
Belize Tourism Industry Association Toledo
501-722-2531
Welcome To The World Of Belizean Chocolate!
The Toledo Chocolate Festival of Belize is a unique blend of southern Belize nature, adventure, and culture! Cocoa has played a dominant role from ancient times, when the Maya first discovered the 'magical' process that transformed cacao into chocolate, right through to the modern day. The Toledo District of southern Belize is home to the organic cacao orchards where the pods are grown, harvested and processed, and later transformed into chocolate.
The Chocolate Festival works hard to raise awareness of the Toledo District, its unique cultural and environmental diversity, promote sustainable tourism throughout the District, and extend the tourist season for the benefit of the entire community.
Every Commonwealth Day Holiday Weekend (late May) Belize celebrates this marvelous food, and many devoted followers return to Toledo each year to find out what's new in the world of chocolate making. This will be the 12th year the Festival will be growing awareness of Belizean chocolate, and continue to capture a wider international audience.
Join us for a three-day celebration of Belizean chocolate and the cacao-driven culture of the Toledo District. Use the links on the left to learn more about the Festival. Packed with activities for the young and old alike, Cacao Fest pays tribute of the organic Cacao farmers and Belizean Chocolatiers and is a celebration of cacao, culture and the rich flavors of the Toledo District. The dates for this year's event are the 18th- 20th May 2018.
PRE CHOCOLATE FESTIVAL BASH
Friday,May 18, 2018 – 10pm – 4am
This year's Chocolate Festival of Belize kicks off on Friday, May 18 with a grand dance featuring the X-BAND at the Punta Gorda Civic Center hosted by the Punta Gorda Town Council! They will also be performing at the Taste of #Toledo Street Fair the following day!
Saturday, May 19 – 9am – 5pm
The Taste of Toledo Street Fair is held on Front Street in Punta Gorda Town, from the Uno gas station all the way to the Punta Gorda library. The pedstrian-only street fair features cultural displays and areas showcasing Toledo's five main ethnic groups: Kriol, Maya, Garifuna, Mestizo and East Indian. Each area displays art, food and music from their culture; it is like going from a Maya town to a Garifuna town in just a few steps.
Barbecued food, chocolate making, kayak trips, chocolate farm trips, there's something for everyone. Taste exciting new chocolate flavors, buy local food, crafts and relax with a cold beer while enjoying live music on stage outside the court building.
As you'd expect at a chocolate festival, each booth has some connection with chocolate or cacao, from chocolate soaps to hand-carved wooden masks depicting cacao. The Belize chocolatiers will also be on hand to talk about chocolate and provide an opportunity for you to buy their many and varied creations.
As always, children can get involved with the Chocolate Festival through our Cacao for Kids activities, leaving parents free to enjoy the street fair whilst knowing that their children are in a safe, supervised environment. Event from 9am – 5pm.
Cacao for Kids activities include:
*face painting
*finger painting
*jewelry making
*games
Wine and Chocolate Event- 7pm
This year's WINE & CHOCOLATE event promises to be another spectacular night to remember, featuring exotic & decadent chocolate foods & desserts like you've never seen before! Come experience it! Saturday, May 19th starting at 7pm at Garbutt's Marine featuring Pandemonium Steel Orchestra!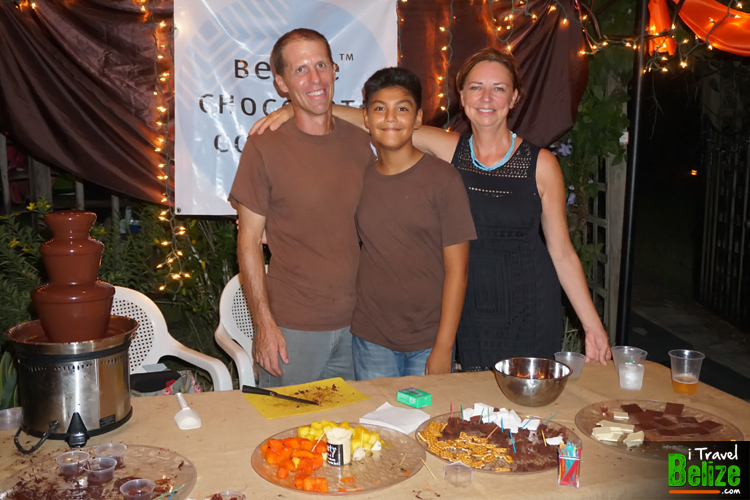 Sunday, May 20 – 10am -5pm

The Chocolate Festival finale always take place on the Sunday at 10:00 am to 5pm, it will be held at the Nim Li Punit Temple Grounds, located 45 minutes inland from Punta Gorda Town. There are live performances throughout the day, this will feature musical performances from Mayan harp groups, Marimba and as well as the Ancient Maya Ball Game (Pok ta Pok) played by the Maya Team from Yo Creek, Orange Walk District. There are always a range of drinks made from cacao combined with corn or pepper and other ingredients and food stalls that offers ethnic Mayan dishes.
Local crafts from hammocks and tie-tie baskets to slate and calabash carvings will be on sale and visitors will have the chance to try their own hand at craft making and appreciate the skill that goes into their creation.