Caye Caulker Lobster Fest outdid itself this year with one highlight entertainment that has everybody talking and many wishing they never missed out on it. New to this year's celebrations was the Color Explosion Beach Fete that took place on Saturday, June 28, 2014.
The Fete was an all out colorful painting madness during a rave party that had participants dancing and painting each other with colored powder provided by the organizing committee. There was no fee to join the party; all the revelers had to do was purchase some colored powder and join in the madness that took place under the main event tent in the center of all the Caye Caulker Lobster Fest celebrations.
Needless to say the Color Explosion event was a huge hit with young and old participants enjoying a great celebration filled with color, loud music and a fun time. It was such a huge success that the committee is already planning on how to make it bigger and better next year.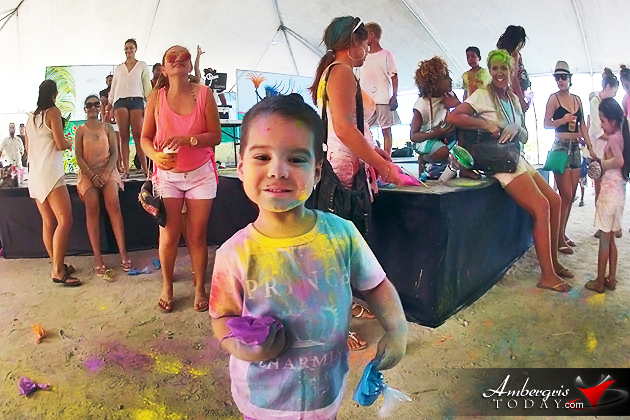 Clink Link to watch video: http://youtu.be/IuPqyusH5xI
The Color Explosion Fete came on the heels of the Miss Lobster Fest Pageant that took place the night before on Friday, June 27, and the Lobster Fest Kick-Off Parade earlier that morning. The newly crowned Miss Lobster Fest was paraded down the busy streets of the island as Caye Caulker came alive with the annual celebrations of the opening of Belize's lobster season.
What an amazing island party/celebration it is! Entertainment throughout the three days of festivities was provided by Blue Wave Sound System, Tagg International and DJ Clarence, but of course the main star of the festival was the Spiny Lobster what was being prepared in every way imaginable. The smell of butter, garlic and grilled lobster were the most prevalent smells that filled the air, but lobster was being prepared in kebabs, burritos, curry, served with rice and beans…endless lobster as far as the eyes could see.
Every spot, restaurant, bar, hangout in Caye Caulker was teeming with activity once again this year. The little island with the "Go Slow" motto came alive with color, sounds, smells and sunshine for everybody to enjoy!