When:
July 26, 2019 @ 7:00 pm – July 28, 2019 @ 2:00 am
2019-07-26T19:00:00-06:00
2019-07-28T02:00:00-06:00
Where:
San Pedro, Belize
Hon. Louise Sylvestre Sports Complex
Contact:
Shamir Guerrero / Eiden Salazar
501-226-2180 / 614-4000
The San Pedro International Costa Maya Festival 2019 has been set to take place from July 26 to July 28, with three days of high-powered entertainment.  The celebratory weekend is the only festival of its kind in Central America. It is the biggest festival in Belize, as well as the highlight of Ambergris Caye's entertainment year. (Visit Costa Maya Facebook Page)

INTL. NIGHT HEADLINER: BECKY G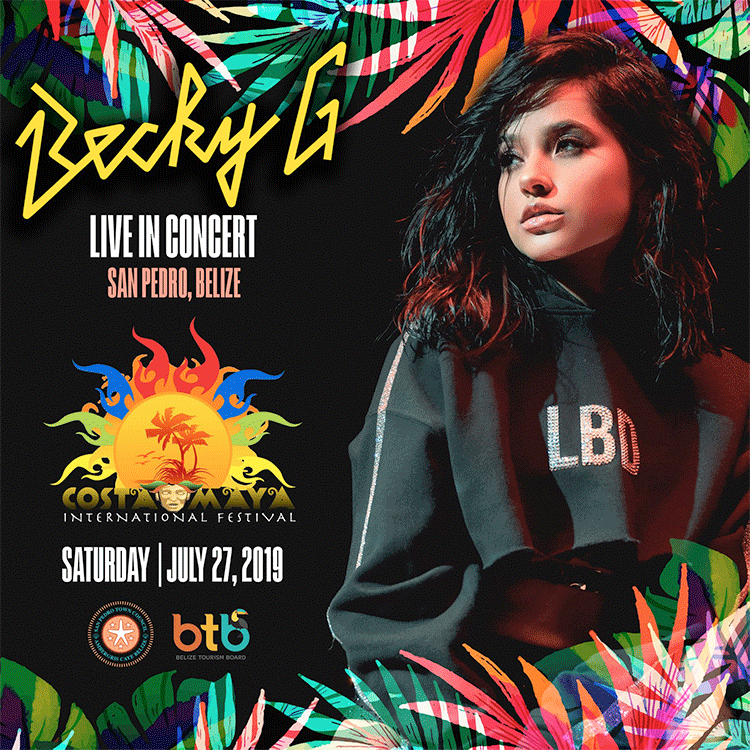 This year the International Costa Maya Festival is going big! This year's International Night Headliner will be superstar Becky G! Singer, songwriter and actress Becky G was born for the spotlight and her multifaceted career is shaping up to be nothing short of iconic. The twenty-one-year-old star's achievements include two number one hits on the Billboard Latin Airplay Charts ("Mayores" & "Sin Pijama"), starring roles in "Power Rangers" and "A.X.L.", and guest-starring in Fox TV's Emmy-winning "Empire" series.
The week of the festival is the most colorful and busiest week on the island. People from all over the country come to the island to be part of this one of a kind event. Hotels, restaurant, cart rentals, airlines, and water taxis are all busy and need to be booked in advance. It is a week when the air is filled with Punta, reggaeton, reggae, ballads, and salsa mixed with some marimba, steel pan, and mariachi music.
The San Pedro International Costa Maya Festival is indeed a grand event that is enjoyed by all those that participate. If you have not been to one maybe it is time to join your friends in San Pedro, Belize for a week of entertainment.
Ballet Folklorico De Quintana Roo
Grupo Crash
Garifuna Collective
Noche San Pedrana – Sat., July 20
A street affair! On this night, the delegates from the Central American countries and Mexico vying for the title of Miss Costa Maya 2019 will be presented with their official sash and they will be presenting themselves in their traditional costume, a dress by a designer of their country and lastly, a national gift – all of this will be judged and be a part of the Preliminary Competition.
There will be entertainment by the San Pedro Dance Academy, El Criminal, Rompe Raja, the Pandemonium Steel Band and Caribbean Kings. Bar and Food Booths are available. There will be games for the kids, so bring the whole family and meet the lovely ladies of the Miss Costa Maya 2019 Pageant.
Miss Costa Maya Pageant – Friday, July 26
The Miss Costa Maya International Pageant is scheduled for Friday, July 26, 2019 at the Louis Sylvester Sporting Complex in San Pedro, Belize.